Interview—Issue 19 (February, 2016)
September 1993, Cheng Hoi Kit, who was a sophomore in the U.S., met with a car accident in a church trip and his central nervous system was injured, resulting in paraplegia. Hence this 19-year-old young man could not live without his wheelchair and he lost his focus in his life immediately. "My faith saved my life!" exclaimed Hoi Kit resolutely. After treatment, he slowly recovered and adapted his life to all kinds of inconvenience caused by paraplegia. During the entire recovery period he had a more intimate relationship with God, and 10 years later, he did not expect he would respond to God's call and dedicated his whole life to serving the Lord. A deacon of his church recommended him to study in the program Master of Theology at our seminary and he graduated in 2007. Since then, he has worked as a preacher at Ma On Shan Chapel of Unity Church and Leung Faat Memorial Church under the Church of Christ in China (CCC).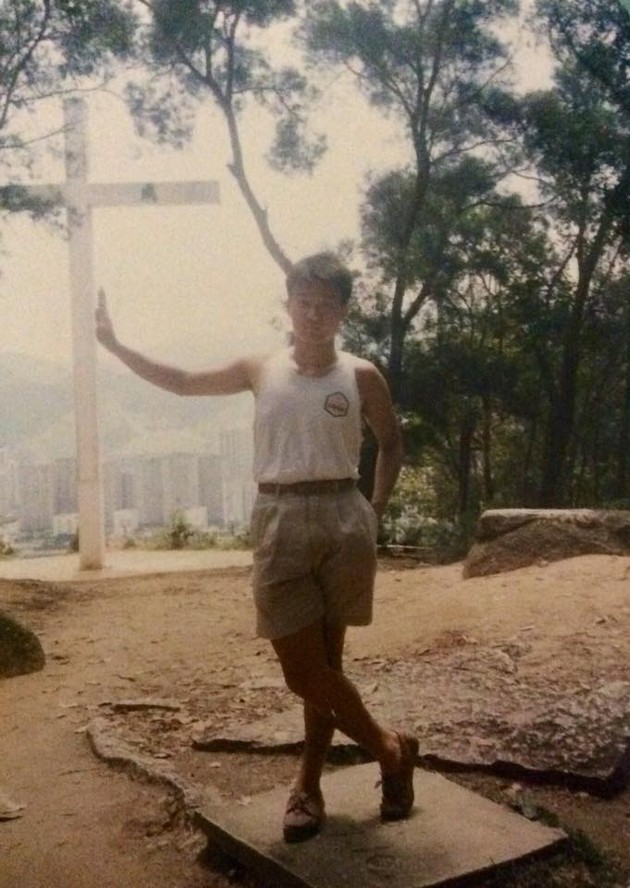 Strive for the Benefits of the Disabled
Now that his lower limbs were disabled, how should he carry on with the rest of his life? Should he develop his career in sports like Cheung Wai Leung who became a wheelchair fencer? Or should he continue his academic study? After returning to Hong Kong, he pondered a lot about his future. He finally completed his college and university programs in Hong Kong. Upon graduation he worked as a planner at the Social Welfare Department helping the disabled to use computer and Internet so that they would not be marginalized by the Digital Divide in this ever changing information era. During his spare time he also sought out for the benefits of the disabled, e.g. adding lifts at subway stations, and introducing buses with lower steps and so on. When he had intended to stay in the status quo, he felt the call from God. After he received the confirmations he needed through prayers, he went to the Divinity School of Chung Chi College in 2004 to get equipped.
John the Baptist on a Wheelchair
Having left the Social Welfare Department, Hoi Kit came to Chung Chi College, the Chinese University of Hong Kong (CUHK), to embark on his theological studies. The first thing he did was to look around the environment including the classrooms and other facilities of CUHK to see if it is suitable for his access with wheelchair and try to offer his opinions to CUHK. In the early period of the school year, Hoi Kit lived in the dorm of CUHK instead of the dorm of the seminary where lifts were not equipped, nor was there a slope for the disabled to access. Rev. Lo Lung Kwong, the former director, discussed with CUHK about how to make the campus more accessible for the disabled. After overcoming some difficulties, the wheelchair slope access were finally installed at the seminary building so that Hoi Kit can access the lobby and enjoy being part of campus life, especially the Thursday worship and evening activities together with the seminary faculty and students.
"Hardware support is important. Here I would like to thank Rev. Lo for building a proper slope for me." For his convenience, a dorm on the groundfloor was arranged for him. Hoi Kit felt uneasy to such special arrangements and he felt embarrassed yet gratitude for all the trouble caused to the university, the seminary, the faculty, and the students. "Later on, during a devotional, I felt an inspiration that all these arrangements could be considered as paving a road for other disabled people who will come to Divinity School in the future. Other disabled students will also benefit from my suggestions," said Hoi Kit with a smile. "Maybe in the future a famous theologian in a wheelchair will come out from this seminary, who can study without these inhibition of facilities at the Divinity School of Chung Chi College, all because of the road I have paved for him like John the Baptist who paved the road for Jesus.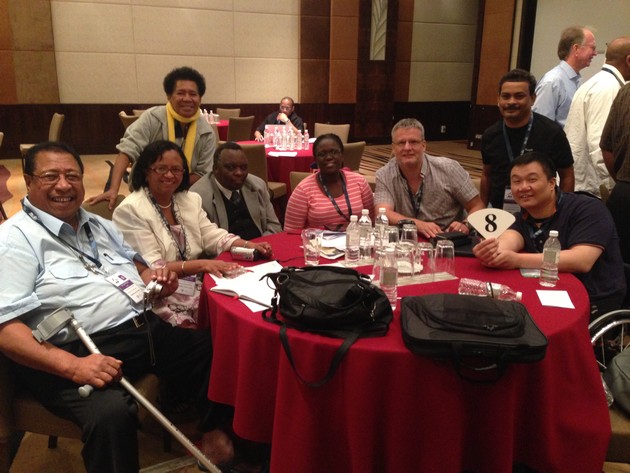 Attention! Here comes the kindhearted!
With hardware ready, software cannot be ignored either. "By software I mean the support from others and also myself." With such experience, Hoi Kit speaks out for the disabled. "We may encounter hardship, but sometimes we really don't need other's help!" claimed Hoi Kit with a wry smile. However, others are always very enthusiastic and eager to offer a helping hand. He learned how to roll down one step of the staircase in the rehabilitation centre, and the trick is to control the wheelchair with hand and have his gravity centered on the two rear wheels. When the front wheels rise slightly, he geared the rear wheels to roll down one stair, and then lean forward to put down the front wheel. But one time when he was rolling down, a kind-hearted soul saw the two front wheels of Hoi Kit's wheelchair rising up, was startled and rushed to hold down the armrest, resulting Hoi Kit falling off and hit the ground. Consequently, two persons had to help Hoi Kit to get back into his wheelchair. How embarrassing!
When asked how should schoolmates and neighbors help the disabled, Hoi Kit's answer is simple, "Ask them. Do you need a hand? Of course they themselves should also be open-minded, and let others help them when needed." Hoi Kit remembered not long after he just received his driving license for the disabled, one time while he was in the driver's seat preparing his wheelchair, suddenly a person on the road ran up and offered to help. He thought in his heart: "If I cannot handle my wheelchair myself, how can I drive out?" Then he waved his hand to indicate a refusal. Whenever he thought of this, he still cannot forgive himself: "If my behavior has caused, that person to refrain offering help to those in need, wouldn't that be a pity?" Therefore, He now believes that people should be encouraged to help others in an appropriate way, and the disabled should also adjust their mindset, to not discount the help they might need and accept others' offer when in need. "Now, if somebody comes to me offering help, I will smile and hand my bag to them and let them do me a little favor."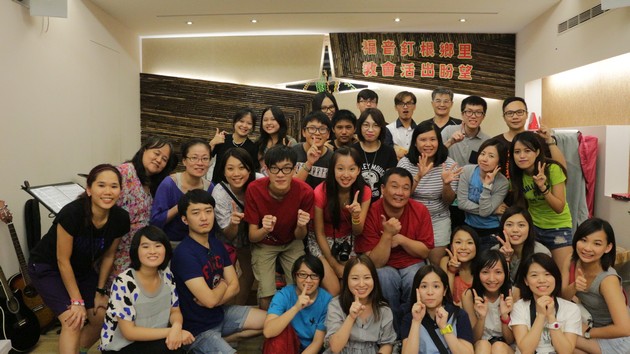 A Beautiful Picture
Last summer, Hoi Kit has an opportunity to visit Taiwan together with the young people of Leung Faat Church as a missionary. Although he has informed his physical limitations in advance, one church in the itinerary is not accessible with wheelchair to the fifth floor. He decided to forego this activity and would wait outside for his friends. But the brothers and sisters would not leave him alone and they strongly encouraged him to go with them. They lifted Hoi Kit and his wheelchair separately upstairs. Hoi Kit's feeling was rather complicated after being lifted by the people to the meeting room. Besides gratitude, he was also full of complaint, remorse and guilt. "Pan Leilei, a fellow theological intern student comforted me, she said she only saw a beautiful picture, like the four friends who hanged down the paralytic from the roof to see Jesus." Such kind words opened Hoi Kit's mind and he deeply grasped at that moment, loving each other is mutual, when one side is willing to love, the other side has to be willing to be loved; only through this, there can be a testimony of love.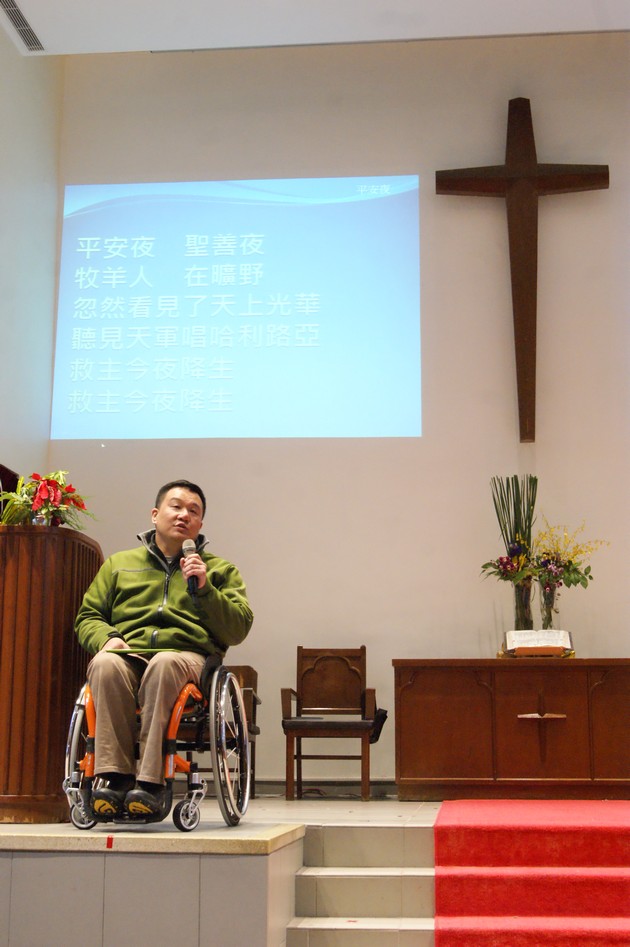 Complete Ministry
Hoi Kit mentioned that last year he represented his district church to visit Malaysia to participate a meeting for the integration of the disabled into church life. In that meeting a speaker conveyed an important message: "If an inclusive society (church) does not provide facilities for both the healthy and the disabled, such society (church) is incomplete, or this is a disabled community, not that the disabled persons are incomplete." Hoi Kit pointed out that compared with other buildings, the church building and altar should be designed to be more public and inclusive. When our seminary was designing a new sanctuary, Hoi Kit took his initiative to express his opinion to the designer. Now the altar is only one step higher than the ground so that the wheelchair users are easier to access the altar.
"I believe when both hardware (suitable facility and equipment) and software (mindset of self and others) are ready in society (church), the disabled will become abled." Hoi Kit expects the moment when the healthy and the disabled are integrated—all children of God can praise and worship together.
Thanks to an unexpected opportunity, Hoi Kit got to know his wife, and they got married. Now they have a son.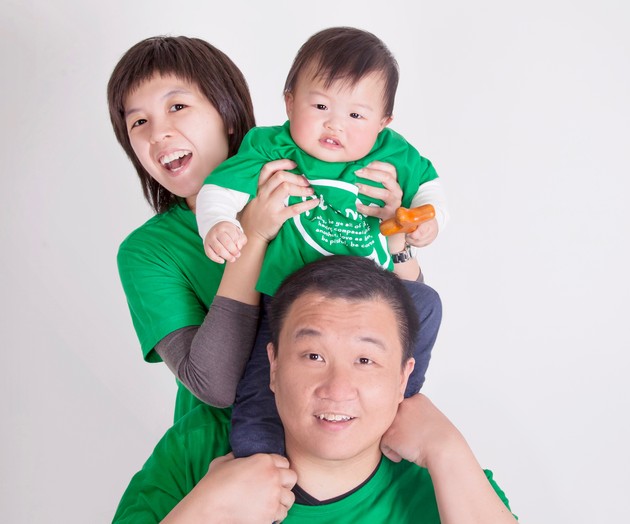 Interviewed and written by: Li Kwong Ping