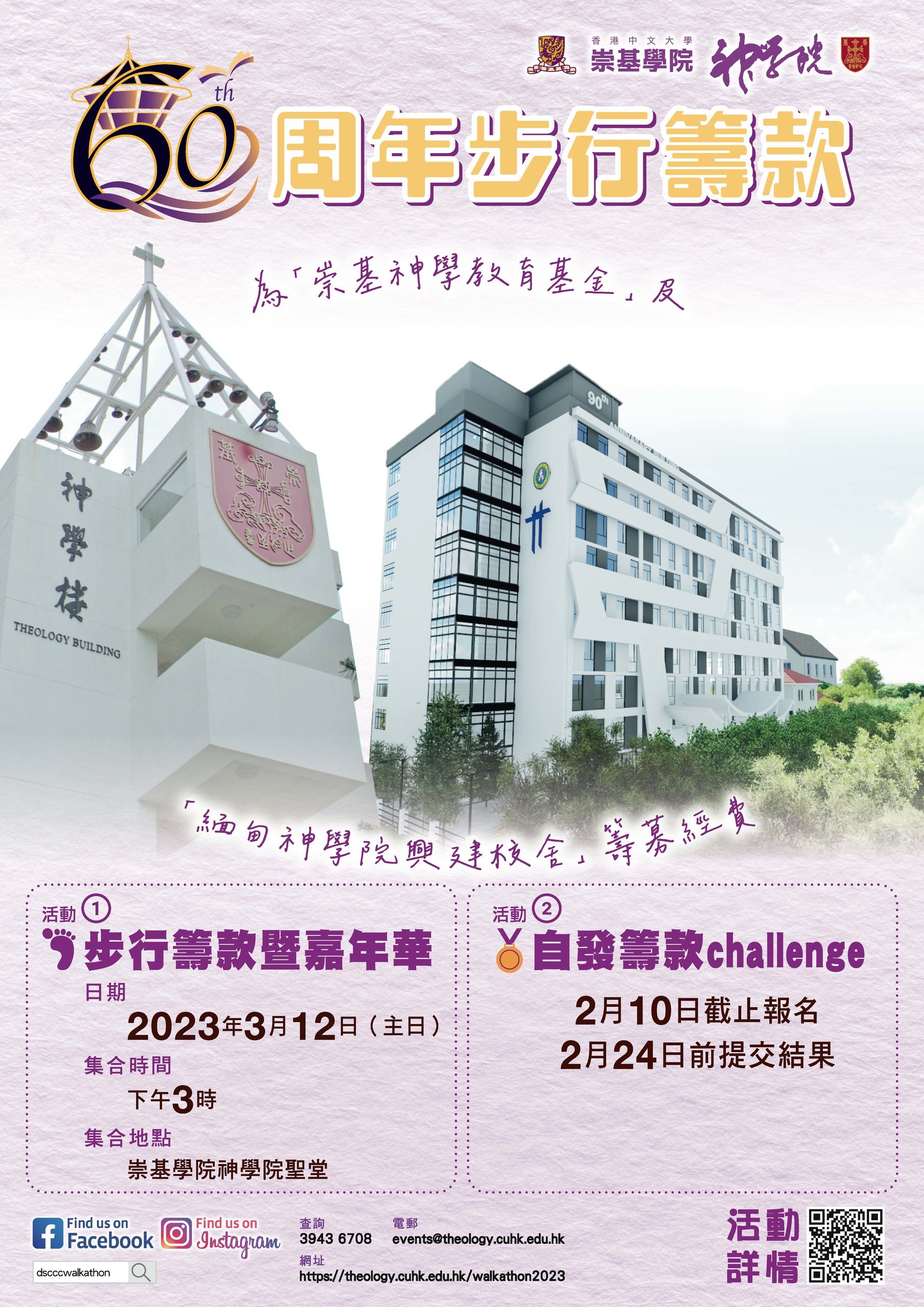 Event Date:
2023-03-12 (Sun)

3:00pm

to

8:30pm
Fundraising Objective
In response to the needs of churches and the next generation of scholarships, DSCCC has been preparing to expand our teaching team. The Chung Chi Theological Education Fund (CCTEF) has been set up for the recruitment of teaching staff. The donation received over the previous four years has been solely spent on the recruitment and salaries of three Assistant Professors. However, we need to raise more funds to secure the new staffing cost and to ensure a smooth transition between new teachers and those who are going to retire. The fundraising target for the future three years is HK$7 million.
Myanmar Institute of Theology (MIT) has raised almost 90% of the total cost of its 90th-anniversary building which has been under construction. However, due to the severe impacts of COVID-19 and the civil war, both construction and fundraising projects have been suspended causing an increase in the construction cost. Approximately HKD1.6 million is still needed to complete the construction. We have a very close relationship with MIT and Myanmar's theological education. Over the years we have admitted students from Myanmar and some of them became teachers at MIT and other seminaries in Myanmar after acquiring theological training here. 25% of the raised funds from the Walkathon this year will be donated to support the building construction cost of MIT while the balance will be donated to the Chung Chi Theological Education Fund.
The Contractions Project of the MIT 90th Anniversary Building Design Concept of the MIT 90th Anniversary Building (Youtube video)
Fundraising Target of this Year
HK$1 million
Fundraising Means
This year's fundraising activities will include a physical Walkathon and Self-initiated Challenge. Local and overseas students, teachers, alumni, and all our friends are welcome to take part in the event.
Activity 1: Fundraising Walkathon and Carnival
12 March 2023 (Sunday)
Gather time: 3:00pm
Gather venue: Divinity School Chapel
Rundown
2:30pm–3:00pm Gather, register, and submit forms at Divinity School Chapel
3:00pm–3:30pm Thanksgiving service, Kick-off ceremony, and Group Photo-taking at Chapel
3:30–4:00pm Walkathon Route (Slightly adjustment may be made)
4:00–6:15pm Carnival: Booth Charity Sale, basketball match, music concert at Theology Building and Basketball Court
6:30–8:30pm Big Bowl Feast Dinner at Chung Chi Tang - Registration is required (Deadline: 28 Feb or once quota is exhausted) Online Registration for Big Bowl Feast Dinner
13/2 Update: Only very few quotas left on the Big Bowl Feast dinner. We will put you on the waiting list if the quota is exhausted. The organizing committee is now dealing with the college and Chung Chi Tang regarding the possibility of extending the quota.
15/2 Update: We have increased the quota. Participants on waiting list please process the payment within 5 working days to complete your application.
Activity 2: Self-initiated Challenge
Participants can decide the challenge item(s) in order to raise funds for Divinity School. You may refer to our social media for the creative challenges by our students, teachers, and support in the previous two years!

Online registration before 10 Feb 2023 Online Registration for Self-initiated Challenge
Challenge Process/Result(s) Submission before 24 Feb 2023
The committee will contact you and follow up. Challenge results will be showcased on the Walkathon's social media (Facebook and/or Instagram) and/or on the event day of the Walkathon.
How to Join?
Please invite sponsors to support you in Walkathon and/or completing your challenge item(s).

Download Sponsor Form

Self-initiated Challenge: Please decide your challenge item(s), then

complete

Online Registration for Self-initiated Challenge

before 10 Feb 2023

. Please record the

process

with your choice of documentary methods (e.g. photos, videos, a screen capture of your walking miles, etc.)

and send it to us before 24 Feb 2023

.

If you join the challenge in form of a group, only the team leader needs to submit the application form

.

Regardless of whether you choose to participate in Walkathon or Self-initiated Challenge, fundraising takes the individual as a unit. Participants must complete the sponsorship form and

submit it by mail or visit the School's general office on or before 10 March, or submit the form and payment on Walkathon Day

.
Payment Method
Please collect the donations from your sponsors and submit the donations together with Download Sponsor Form to Divinity School by ONE of the following methods:
| | |
| --- | --- |
| Cheque: | Please make cheques payable to "The Trustees of Chung Chi College" and write "2023 Walkathon" on the back of the cheque, then post the cheque with the sponsorship form to the Divinity School of Chung Chi College. |
| Bank or Automated Teller Machine (ATM): | Please transfer all your donations in one batch to the bank account of The Trustees of Chung Chi College (Hang Seng Bank, Account number: 283-174001-001) then post the original copy of your bank slip together with the sponsor form to the Divinity School of Chung Chi College. (Please avoid transferring several times for the convenience of accounting.) |
| Oversea participant: | If you cannot submit the donations through cash, cheques, or online bank transfer, please email events@theology.cuhk.edu.hk to contact us for the submission arrangement. |
| Mailing address: | c/o: Walkathon 2023, Divinity School of Chung Chi College, The Chinese University of Hong Kong, Shatin, Hong Kong |
| Online Bank Transfer: | Please collect all donations and transfer them to the bank account of The Trustees of Chung Chi College in one batch (Hang Seng Bank, Account number: 283-174001-001) then email the transfer record (by saving the file in PDF or screenshot of the completed page, which clearly shows the bank account number, amount, date and time) to events@theology.cuhk.edu.hk. (Please avoid transferring several times for the convenience of accounting.) |
Tel: (852) 3943 6708
Email: events@theology.cuhk.edu.hk
Please follow our social media for the most updated information (context in Chinese only):