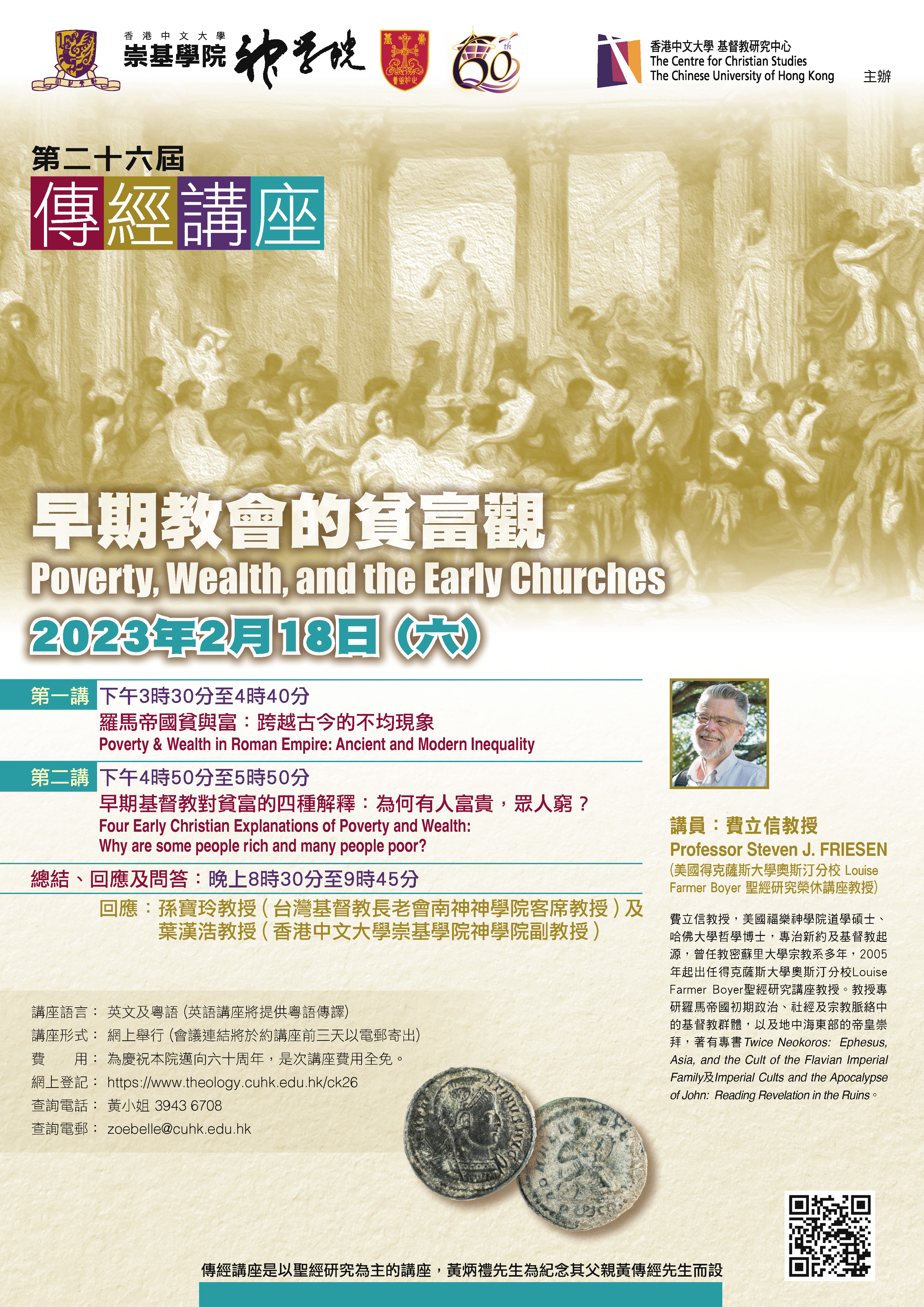 Event Date:
2023-02-18 (Sat)

3:30pm

to

9:45pm
26th Chuen King Biblical Lectureship - Poverty, Wealth, and the Early Churches
Online Registation

(Registration is closed on14th Feb)




16/2/2023 Update: Zoom ID and reminder has been sent via email. Please email to zoebelle@cuhk.edu.hk if you do not receive.
Speaker:

Professor Steven J. FRIESEN

(

Louise Farmer Boyer Chair in Biblical Studies Emeritus, Department of Religious Studies, The University of Texas Austin

)
18th Feb 2023 (Saturday)
3:30—4:30PM
Lecture 1: Poverty & Wealth in Roman Empire: Ancient and Modern Inequality
4:40—5:30PM
Lecture 2: Four Early Christian Explanations of Poverty and Wealth: Why are some people rich and many people poor?
8:15—9:45PM
Summary, Response and Q&A
Respondents: The Reverend Professor SUN Poling (Adjunct Professor, Tainan Theological College) and Professor Alex IP (Associate Professor, Divinity School of Chung Chi College, The Chinese University of Hong Kong)
Languages: English and Cantonese (Cantonese simulation interpretation will be provided for English lectures)
Format of lecture: Online (Meeting link and ID will be sent by email about 2 days prior to the lectures)
Fee: Free of charge (In celebration of 60th anniversary of Divinity School of Chung Chi College)
Inquiries: zoebelle@cuhk.edu.hk
Steven Friesen is the Louise Farmer Boyer Chair in Biblical Studies Emeritus. He holds a Ph.D. from Harvard University, an M.Div. from Fuller Theological Seminary, and a B.A. from Fresno Pacific College. Prior to arriving at UT-Austin, he taught at the University of Missouri-Columbia, where he served as Chair of the Department of Religious Studies. He also held a three-year fellowship in the Cultural Studies Program at the East-West Center in Honolulu.
Friesen's research field is early Christianity, with particular interests in the book of Revelation, poverty in the Roman Empire, and archaeology of religion in the eastern Mediterranean. His publications include Imperial Cults and the Apocalypse of John: Reading Revelation in the Ruins and Twice Neokoros: Ephesus, Asia, and the Cult of the Flavian Imperial Family. His current research examines the economic ideas and practices of the apostle Paul and his communities. (Source: https://liberalarts.utexas.edu/rs/faculty/sjf365)
Chuen King Biblical Lectureship is established in memory of Mr. WONG Chuen-king by his son Mr. WONG Bing-lai.