What to do when I am gone (John 17:6-19)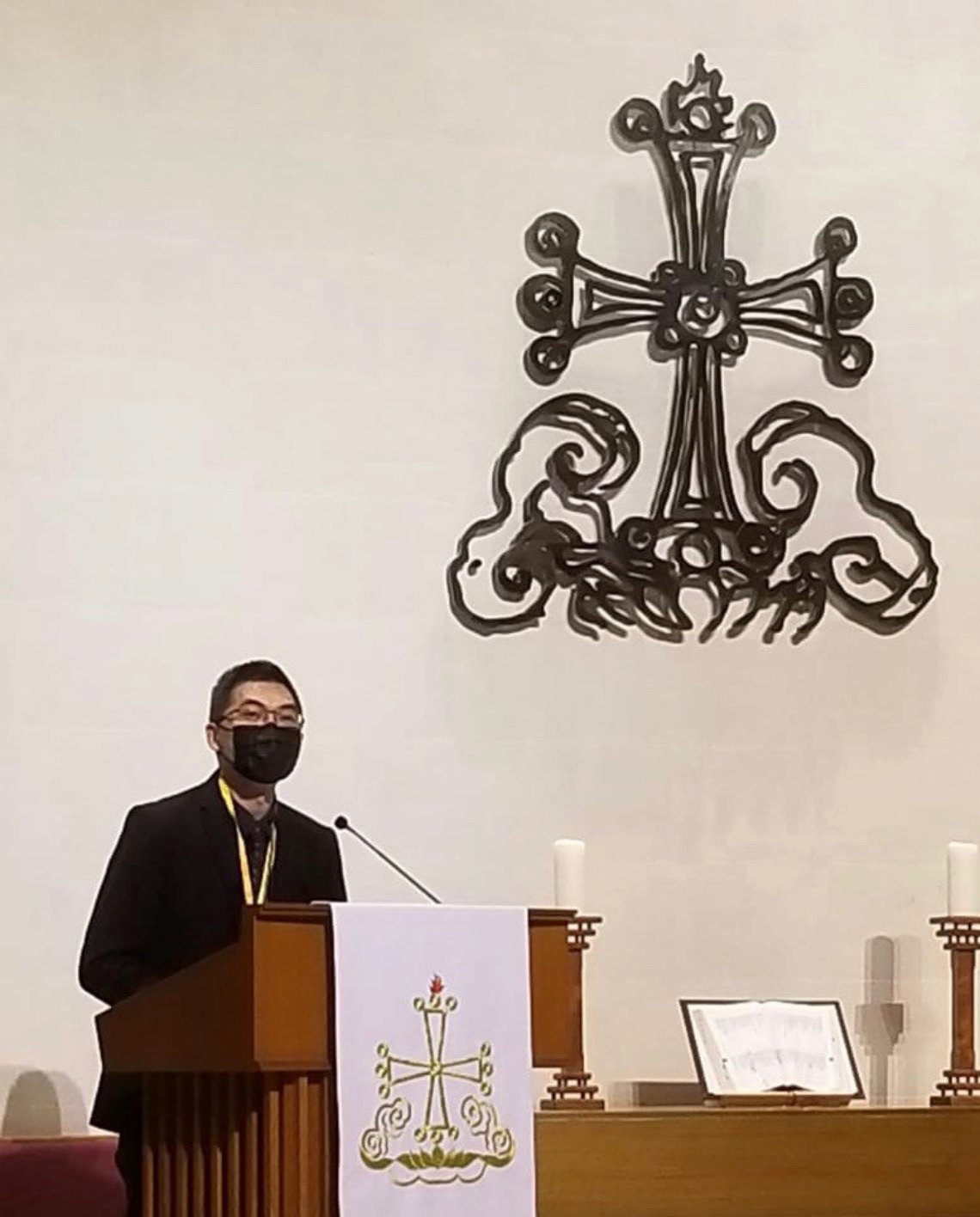 End of Term Service in Divinity School of Chung Chi College on May 21, 2020
After that……
Today is May 21, 2020 and there are 71 days before July 31 which is the day I have been longing for when I can finish my duty as the School Director.
"The hour has come", am I very happy? Of course, but the reality is not that simple! It's because I (we) can never imagine the year of 2020 have come in this way……When we looked back the previous year, we didn't know how we could walk through the days and what next is waiting for us? How many times there were scenes popped up in my mind and everything was like it was yesterday. If we say sufferings connect Hongkongers, however as a unique individual from the community of sufferings I need to cope with trauma, of myself, of my family, of a group, of the society…… Many people have been recently talking about PTSD (Post-traumatic Stress Disorder) and it seems even though we have stress, it happens "after" a trauma. Victims usually rebuild and recover after a disaster but what we are facing is different as it attacks us continuously like a huge tsunami and one after one if the worst comes to the worst. A new trauma is generated by every attack. When is the post-trauma? What situation it will be after this? Sorry, we do not know……but the only thing I know is after 71 days will be the end of this chapter. How will be my next chapter? Although there are many uncertainties, I know I will try my best to write it well at least……When I was studying History, I sometimes lament if some Christian leaders and intellectuals like Wu Yao-tsung (Y. T. Wu), Chen Chonggui (Marcus Cheng), Tzu-ch'en Chao (T. C.Chao)……had passed away earlier, their life and the historical evaluation would be totally different but would they have the same regrets?
Jesus' Farewell Prayer
There is one common characteristic for the three sections of scriptures which I selected for tonight service, that is about farewell. Why did I pick up these three sections of scriptures? Because the sharing for tonight End of Term Service is presented by a person who is going to finish his duties. According to the liturgical calendar, few days later it will be the Day of Ascension. The farewell prayer in the Chapter 17 of John perfectly fits it well tonight. Starting from the Last Supper in the Chapter 13 to the end of Chapter 16 of John, Biblical scholars name it as the Last/Farewell Discourses which was followed by the Farewell Prayer in the Chapter 17. Jesus then got arrested in the Kidron Valley after praying for the disciples. The way that Jesus bid farewell to his disciples must be sincere and meaningful as if there is a Chinese idiom saying, "a man's words are good when death is near". However, when I read it carefully, I can't help asking, "did disciples really understand when Jesus bid farewell to them? Did they really understand the meaning behind when Jesus led the Farewell Prayer and they followed him to say Amen?"
When Jesus looked toward heaven and prayed, the first sentence he spoke was "Father, the hour has come." Jesus Christ knew the days of His death was near and He has almost finished the work Father asked him to do. So what concerned Him the most when He was making the farewell prayer?
First of all, Jesus prayed to Father from the first to fifth verses and being glorified is the main focus. Jesus said, "I have brought you glory on earth by finishing the work you gave me to do "(4). Jesus firmly believed His whole life was to complete the salvation. Though He needed to cope with separation and death, He felt honoured and glorified for He has finished the mission. What's more meaningful than passing away without regret after achieving the mission in one' life? But who dares to claim his whole life has no regret?
Undoubtedly life is full of many choices and decisions and sometimes we would ask ourselves whether the decision we made on one day was the most appropriate? If we had the opportunity to make an alternative, would the situation become better? When we had this kind of thought, it indeed revealed our true self that we were not satisfied with the outcomes brought by our decisions and still dwelled on the regrets in our life, weren't we? The speech that I delivered during last year End of Term Service addressed this question and gave me a solution. I think this year would be perceived by our Year-one students as very complicated. The Fall Term was suddenly terminated, and face-to-face classes were only taught in the first two weeks of the Spring Term then Zoom has been used for online teaching and learning. Perhaps many Year-one students might regret if a statistic was made and they would postpone their admission a year later if they had known the situation. To all full-time MACS students who only studied here for one year, I think they might regret the most because of what happened this year so to relief honestly is not easy to them.
Jesus Christ certainly would not feel regret with His whole life, but we cannot say He has no worry in His mind. He knew His disciples needed to take over all His work when he was gone. "I will remain in the world no longer, but they are still in the world, and I am coming to you" (11a). How Father sent the Son into the world, the Son followed suit to send disciples into the world. We can clearly see a picture of "Father, Son and Disciples". However, how can the relationship between the Son and disciples be compared to the relationship between Father and the Son? Jesus knew His disciples very well since staying together over the past three years. He knew their weaknesses but now He put all His bets on them. What if disciples failed His expectation? "The world has hated them", would disciples be affected by the outside challenges striking the words given by Jesus?
Ideal and reality
Therefore, a lot of focus was put on the prayers for disciples in Jesus' Farewell Prayer. His prayer can be divided into three parts. Firstly, Jesus prayed for the unity of His disciples; secondly, Jesus prayed Father would protect His disciples from the evil one; thirdly, Jesus prayed Father would sanctify His disciples by the truth. Unity refers to the relationship among disciples so Jesus prayed Holy Father would protect them by the power of His name. To protect them from the evil one refers to the relationship between disciples and the world. Jesus prayed Father would protect disciples from the sin. Sanctification requires the practice of disciples' spiritual life so Jesus prayed Father would sanctify them by the truth and words they accepted and obeyed.
When we looked back the Farewell Prayer that Jesus made, we knew His feelings were complicated. Father sent His Son who has fulfilled His mission but it's not that easy when His Son handed over His duties to His disciples. "They" refers to disciples in His prayer. So Father gave disciples to His Son who has revealed Father to them and disciples should obey His words. For He gave them the words Father gave Him and they accepted them. When Jesus said, "they obeyed", "they knew", "they accepted" and "they knew with certainty" (6-8)…… we cannot help asking, "Really?" We might even doubt if disciples understood the content of this prayer. At least until the Day of Pentecost, disciples had doubts about the content of His prayer. The situation was also not simple after the Ascension of Jesus Christ.
Jesus prayed for His disciples. When he was gone, Father would protect them by the power of His name so that "they may be one as we are one" (11b). However, we knew how difficult this was when we studied the church history. Some people manipulated the name of unity as "uniformity" and "harmony" and suppressed different voices on the other hand. Why "they may be one as we are one" in His name? Doesn't it reveal His road was beyond everyone? Only His word was the truth and for them Jesus sanctify Himself, that they too may be truly sanctified. Jesus said, "they may have the full measure of my joy within them" (13). Do we have full measure of His joy in our mind? Or we are self-oriented and only eager to strive for power and personal interests? "Protect them from the evil one" (15), "Sanctify them by the truth; your word is truth"(17), but we can really experience the rule by the evil one while Christian communities and individuals cannot totally escape from the sin and cannot be truly sanctified and conflicts and split have never been stopped and what church pursuit is exactly the recognition of the powers of the world……
We are from Him
"The hour has come" when Jesus was going to leave His disciples. However, disciples were not left as orphans in the world when Jesus was gone. Although there were so many negative experiences arising our doubt whether Jesus's prayer was true, didn't Jesus know all of these? Perhaps it's because Jesus knew it so He needed to keep His disciples in His Farewell Prayer. "Unity", "joy" and "sanctification" are not the nature of the faith communities but the values that we should pursuit and the relationship that we should care in the unwanted reality. Jesus Christ reminded us we should never forget our identity. "They are yours" (6,9), for they are not of the world (14), they are sent by Jesus into the world (18) and they are still in the world (11). All these reminded us we should stay close to God when we encounter different kinds of weakness and confusion. When Jesus said "truly sanctified" (19), it's not we own the "truth" so we can claim ourselves as being sanctified but remarked our lives would be totally collapsed and depraved when we left the God's road (Truth). We would not identify nor confound right or wrong and deliberately misrepresent it. Settlement and nutrition of our life is a life-long persistence and learning but corruption may only happen in a second. We give up ourselves very quickly when we get close to the evil one. At this moment, shouldn't we feel strange about this?
So what is the meaning of God's name, God' words and God's be with us? Aren't these unreachable lies? Or are they entangled with us on the ground and dragged our life? How can we carry on when life is full of different kinds of regrets?
Only to trust
It's true as life itself is full of regrets. People who are more optimistic can only admit the existence of regrets and live with it, never give up and then do his best. That's all they can do. However, can they really get rid of it? Without hope, we have nothing in fact. It recalled me 120 years ago in 1900 which was also a crisis year (Metal Rat), there was a 68-year-old elderly who was recovering in Switzerland. He claimed "When I cannot read, when I cannot think, when I cannot even pray, I can trust" after receiving a news from a faraway place. His name was Hudson Taylor, the founder of China Inland Mission and was heartbroken when he knew there were 79 missionaries of China Inland Mission and their children was killed in the Boxer Uprising. He said he could not read, could not think and even could not pray. I believe we felt echoes with him and there is a very important point which we need to think, that is what power made him to say "But I can trust"? Perhaps if we do not have the hope to trust, we would really feel despaired and hopeless. To trust at this moment becomes our only faith. We indeed have experienced all these over the past year.
Hudson Taylor returned to China in 1905 and went to Changsha in the province of Hunan in June. Starting missionary in Hunan had always been a very difficult task to China Inland Mission and many attempts were failed so missionaries left. There was finally the first missionary who successfully stayed in Chengde until 1897. Therefore, Hudson Taylor came to Hunan this time with full of joy as he has been praying for the start of missionary in this place for 30 years and a church could finally be set up there. Even though the sorrow of the Boxer when the lives of 79 missionaries and their families were lost would never be healed in Hudson Taylor's heart which was also the greatest regret in his life so in China Inland Mission, he could see the effects of his trust to God in spite of different regrets, he died without anything to regret. Hudson Taylor passed away peacefully on June 3 that was two days after arriving Changsha. One of his will before passing away was to be buried together with his beloved wife who died when she was young and their children who died at any early age.
Hudson Taylor got married with the daughter of a missionary in Ningbo in 1853 and her name was Maria. Their eldest daughter died at the age of 7 because of meningitis in 1867. Another son was killed because of pneumonia in 1870. Therefore, they decided to send the remaining 3 kids home to England. Maria delivered a baby boy in the same year but she infected from cholera while both Maria and her new-born passed away. This was the hardest time to Hudson Taylor who felt the loneliest. He once said, "when I was alone in the room and could not see my beloved wife and could not hear the foot-step sound of my little children, the fear of emptiness shook me and then I realised why Jesus said, "whoever drinks the water I give them will never thirst". I wonder 20 times a day no matter day or night time, when my heart thirst and I called and prayed to Him, He came over to comfort me immediately." In fact, the decision to return to China was not only to allow him revisiting the missionary field, but also to let him die in China so he could be buried with his beloved wife and children. I believe Hudson Taylor died without regret.
He mentioned one of his favourite verses when he was writing a letter two months before passing away. It's Psalms 119:173 "May your hand be ready to help me, for I have chosen your precepts." How to wait for the hand of God and to persist and follow His words in spite of loneliness and despair should be the last words Hudson Taylor wanted to share with his fellows before ending his life journey. More importantly was that he demonstrated in his life to give a remark on this verse.
I remembered Václav Havel once said, "Hope is definitely not the same thing as optimism. It is not the conviction that something will turn out well, but the certainty that something makes sense, regardless of how it turns out." So God's name, His words and be with Him are our only hopes……
When I'm gone
The topic of this sermon is "What to Do when I'm gone" which is about Jesus' Farewell Prayer. In fact, What to Do When I'm Gone is also the name of a book. One day a daughter asked her mother, "What should I do if I am left when mum is suddenly gone?" So she painted some illustrations which are elaborated by her mother who wrote the guide book together. The book starts with the first day after mother passing away until 20,000 days. This mother wrote at the end, "Keep in mind that no matter how many people you are surrounded by, you need to die alone. This is really your show." Then the mother again told her daughter, "In fact, it has been your show all along, long before the day I died. Even though it comforts you to get my advice—and trust me, I have no shortage of it—you already know all the answers. In fact, you don't really need this book. I was happy to write it with you, but you don't need it. You already have what it takes to carry on without me. You already have it within you to face what's ahead. The infinite river of memories we shared still connects us. Let that river flow over you and through you, carrying you forward and beyond."
Let's imagine if the meaning is the same when Jesus Christ made the Farewell Prayer. "Keep in mind that no matter how many people you are surrounded by, you live alone. This is really your show." "In fact, it has been your show all along, long before the day I died. Even though it comforts you to get my prayer—and trust me, I have no shortage of it—in fact, you already know all the answers. I was happy to pray for you, but you don't need it. You already have what it takes to carry on without me. You already have it within you to face what's ahead. The infinite river of memories we shared still connects us. Let that river flow over you and through you, carrying you forward and beyond."
The Hour Has Come
This is my last time to speak publicly as the School Director. The hour has come finally after my 6-year session of School Director excluding one-year sabbatical leave. There were drastic changes in Hong Kong society and local churches over the past 6 years and I don't know why it's 2014 when I stepped up on the stage taking up the responsibility of the School Director. As a historian, history allowed me to learn a lot of lessons but it doesn't guarantee me to make the right decisions every time. Some of the decisions perhaps might upset others or aroused criticisms but all these are in fact not of my character. Sometimes I also doubt myself when I woke up at midnight…… I have certainly experienced a lot and myself has been shaped by many lessons, but am I still me after these 6 years? Certainly not possible……in fact how did I change? I become better or worse? Can I still be myself through all these changes? All these can only be judged and evaluated by God and history. Someone asked me if I will feel not used to or miss the days working as the School Director after ending my term of service. I understand the stage is attractive accompanied by the crown of this identity, but my answer is absolutely not. So please don't call me "former director". In fact, I am not a talkative person and I like presenting myself by writing instead of speaking. I once told my wife I have already used up my quota of making conversations which are supposedly used for my whole life in these 6 years. Please don't ask me about my expectations over the future of Divinity School of Chung Chi College as history taught me all these so-called "expectations" would become the burden of the others. The future of Divinity School of Chung Chi College should not be decided by one person, but should be all of you sitting here. "In fact, it has been your show all along, long before the day I became the School Director but also when I'm gone, that is it."
Lastly, let me convey my heartfelt thanks by making use of the opportunity here. I am so lucky that I was not alone to work in these 6 years. I would like to give my appreciation to my colleagues that we always strive for achieving unity even though sometimes we may not have the same point of view when we may stand in different positions. This gives a remark to our endowment with a catholic and ecumenical spirit. I, of course, have my defects and insufficiencies but I am fortunate enough to have all of you making up for my deficiencies. I dare not to say this is the most perfect team but at least I can say we have practised the ideal of "be water" that is "no separation, no differentiation and no disgrace" over previous critical issues.
Certainly, I must give thanks to my family, especially my wife. What I can only say to her is that she has sacrificed too much for me over these years. The only yearning that I can commit to her is the days we spend together after retirement. This day is indeed really not too far away.
The Vice-President of Taiwan Chen Chien-Jen who has just stepped down from his position acquired the proverb of St. Mother Teresa when he did the farewell sharing. "I am a little pencil in God's hands. He does the thinking. He does the writing. He does everything and sometimes it is really hard because it is a broken pencil and He has to sharpen it a little more." Then he continued, "It's time to go back to Academia Sinica for where I can be the little pencil in God's hands. I will continue conducting research, presenting paper and writing manuscripts. My dear people, thank you for giving me the chance so I can contribute myself which I am truly grateful of!"
It reminded me I was admitted to CUHK in 1983 and I started my journey of theological education in 1993. Then I came to Chung Chi in 2004 which opened a new page in my life. The chapter of my appointment as School Director since 2014 is coming to the end. After that I need to prepare for my next chapter. I don't know how many chapters left in my life. I don't know how many "afterwards" there will be……At this moment I live in Hong Kong, a place where I am no longer familiar with. When I surveyed all these, which are breakdowns of social values, the power of sin is raging, and the evil ones act high and mighty. God please protect us in your name, protect us from not to be changed in the dark age so we live in your truth. "It's my time to go back to be the little pencil in God's hands. I will continue conducting research, presenting paper and writing manuscripts. My dear fellows of Divinity School of Chung Chi College, thank you for giving me the chance so I can contribute myself which I am truly grateful of!"